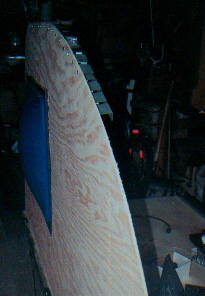 An outer view of the FOXY Teardrop showing a revolutionary deviation from the traditional wooden framing design of the teardrop cabin using lightweight steel.
The plywood used is plastic laminated and is much thinner than that used by the traditional designs.
This design drastically reduces the weight of the teardrop which is important for gas mileage and increased carrying capacity without losing the strength of the structure.



The teardrop has a bubble side window that enables 180 degree viewing from the interior adding modern appeal to its design.